Planning your next 
CORPORATE EVENT?
Let Michael Bring the MAGIC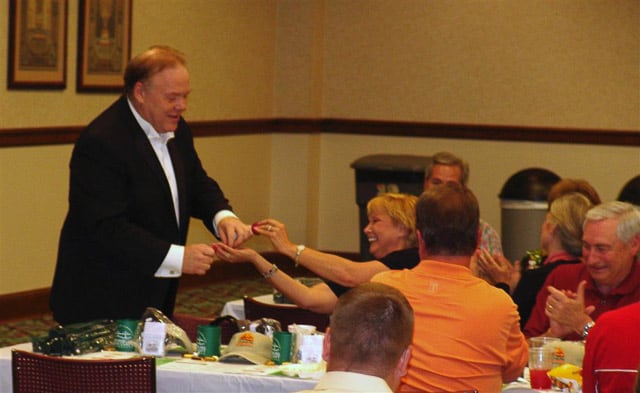 Whether you are entertaining your staff, clients, or stakeholders, The Magic of Michael Clayton will bring engaging laughter and illusi
The Magic of Michael Clayton is perfect for corporate seminars &, training sessions, parties and corporate charity events.
For holiday celebrations, look no further! The Magic of Michael Clayton features themed performances tailored to your event.
Forever Inspired by
the art of Magic
Specializing in the classics of magic, Michael Clayton brings a fresh approach to the art of magic by adding humor, contemporary music, and theatrics.He's been assisted on stage by Memphis' own Jerry `The King' Lawler and former Memphis and Shelby County Mayor A.C. Wharton. Michael holds a Bachelor of Science degree in Education and worked as a corporate instructor for several years utilizing his magic to gain attention and teach object lessons.
"I would like to thank you for the fantastic job you did for our Medieval Theme Trade Show at the Memphis Cook Convention Center. We appreciated your professional and positive attitude. You did an excellent job on such short notice. Your slight of hand magic delighted every one of all ages. That imaginary card trick is unbelievable!! You are a very talented young man and we wish you continued success."
-Linda D., Sales Secretary, Hardin's Sysco
"I want to thank you also for your participation at our awards banquet. Everyone enjoyed your performance. You helped make our banquet a memorable one. We loved your handcuffed hands behind the jacket was unbelievable. Everything was perfect and we did get a burst of business after the banquet from people who wanted to join our organization. I believe it was because everyone had a nice time at the banquet."
-Carol P., JaniKing
"Just a short note to thank you for the outstanding job you did for the employee carnival which was held at the Cook Convention Center. Your positive attitude and professional manner helped to make our associate function a success. Your magic tricks delighted and intrigued attendees of all ages."
-Karen B., Employee Relations Manager
How Can we help you?
Michael's shows can be custom designed for your event to fit your budget! Simply click on the link above, answer a few questions, and we will contact you with a custom quote for your event!